Magnetic Sweepers
Our powerful PERMANENT MAGNETIC sweeper bars are ideal for:
Parking Lots
Individual Shops
Warehouses
Truck Bays
Loading Docks
Airfields
Municipal Facilities
If you need a large magnet for picking up nails, metal scraps, shavings, tacks, or other ferrous metal parts, our sweeper bar will do the trick. Our magnetic sweeper will end flat tire worries caused by ferrous debris forever.
Magnetic Sweeper Bar Assemblies
Magnetic Sweeper Bar Assemblies are primarily used as magnets to pick up nails, screws, and other ferrous material from large areas such as streets, parking lots, runways, dispatch yards, and factory areas.
Simply suspended from the forks of a forklift with the optional mounting hardware, from street sweepers or directly from the bumper of a truck. Optional wheel attachments are available for all sizes. A series of powerful permanent magnets gives maximum pick up efficiency without the use of electricity or moving parts. These units are compact, lightweight and are easily installed.
Magnetic sweepers come in four standard sizes and can be made in any special size up to 18 feet long.
Magnetic Sweeper Sizes
The standard sizes are:
18″ long-P/N 115-204
24″ long-P/N 115-210
36″ long-P/N 115-202
48″ long-P/N 115-211
54″ long-P/N 115-203
60″ long-P/N 115-212
72″ long-P/N 115-201
96″ long-P/N 115-213
103″ long-P/N 115-214
THE BEST SOLUTION
AZ Industries is one of the leading bar magnet suppliers. Our Magnetic Sweeper Bars are the best solution for saving time and money on flat tires due to nails or scrap metal. Ideal for your parking lot, loading docks or warehouse traffic areas.
Unlike parking lot sweepers, our Magnetic Sweeper Bar requires no towing. Designed to be suspended from a fork of a forklift or directly below the front bumper of a truck to allow a minimum turning radius and a maximum sweeping coverage while providing the driver with a clear view of the sweeping operation.
Custom Sizes Available-Call or Email for pricing
Our Magnetic Sweeper Bars are a perfect addition to our Fodmaster® Rocksweeper Models RS-48, RS-96 and RS-150 Tri-Link Systems.
MADE IN AMERICA
Attach Our Magnetic Sweeper Bar to your Vehicle
Our Magnetic Sweeper Bars are light weight with the 18″ unit weighing in at only 18 lbs and the 72″ unit is only 73 lbs in weight. The bumper of your truck can easily handle this minimum weight. Recommended operating speed is 5 m.p.h. with operating ground clearance of 3 -5 inches (7.6-12.7cm).
Rubber Wear Shield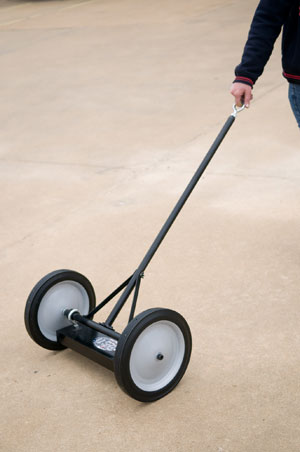 Keep your Magnetic Sweeper Bar lasting a lifetime with our Rubber Wear Shield made to protect the Magnetic Sweeper Bar from rough uneven surfaces, parking lot dividers, curbs and other obstructions that cause wear to the units black anodized aluminum casing. Simply replace the wear shield when it has worn through.
Magnetic Sweeper Bar Accessories
Optional accessories are available as follows:
Mounting Hardware, P/N MH-6: 2 Chains and 4 Quick Links
Rubber Wear Shield P/N 115-200D (Sold by the foot)
Special Double Power Units are available. These units give twice the reach enabling you to run them at higher ground clearance.
Magnetic Brooms
18″ Wheel Assembly-P/N 115-207
36″ Wheel Assembly-P/N 115-206
54″ Wheel Assembly-P/N 115-209
72″ Wheel Assembly-P/N 115-205
If you need a large magnet for picking up nails, be sure to browse our Amazon store by clicking this link.