Magnetic sweepers come in all sizes from the smallest used by homeowners for cleanup after DIY projects to large industrial sized sweepers used by airline companies. Their powerful permanent magnets pick up nails, screws, and other metallic hazards on the road or in your yard.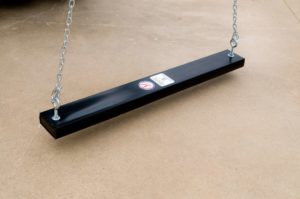 Collecting foreign object debris (FOD) isn't simply a matter of keeping your work area clean. It saves thousands each year by preventing injuries to workers and damage to equipment.
Magnetic sweepers are ideal for cleanup because they don't require towing. They can be suspended from the bumper of a truck. In many scenarios, companies don't need to spend extra labor hours cleaning up metal debris. By attaching a magnetic sweeper to their work vans, they automatically clean up as they drive.
Who's using magnetic sweepers to save thousands? We've listed just 5 industries that are saving money and preventing inconvenience for employees and customers.
1 – Airports
Dropped luggage, stray tools, debris falling from maintenance trucks all create hazards on the runway. If a plane runs over metal debris while taxying through an airport it could cause damage that will take hours to fix.
How do they prevent this? Attach a magnetic sweeper to baggage trucks and maintenance cars for continuous sweeping. These vehicles will pick up nearly all the metal debris as they're driving their usual route.
2 – Mines
With trucks coming and going all the time, there's no lack of opportunity for metal debris to fall. Attaching magnetic sweepers to the most commonly used work vehicles will keep the roads swept clean.
3 – Shipping Terminals
In the process of unloading containing ships and loading trucks, debris is bound to fall. Magnetic sweepers prevent flat tires and help the trucks stay on schedule.
4 – Pipeline Construction Companies
Any construction company will save money by using magnetic sweepers on worksites. It's especially helpful for pipeline construction because they produce a lot of metal shavings in the process of their work. These sharp metal shavings create the potential for injuring people, animals, and equipment.
5 – Horse Arenas
Metal debris can get lodged in a horses hoof. If it's not immediately found and removed, nails and other metal objects will move deeper into the hoof causing a lot of pain and the potential for lameness. Metal sweepers pick up the metal scraps that get dropped around grooming areas and arenas.
Looking for a magnetic sweeper for your home or business? Contact us to place an order. We offer both standard and custom sizes to fit your needs. Worried that your project is too large? Ask about our Special Double Power Units that run at a higher ground clearance.