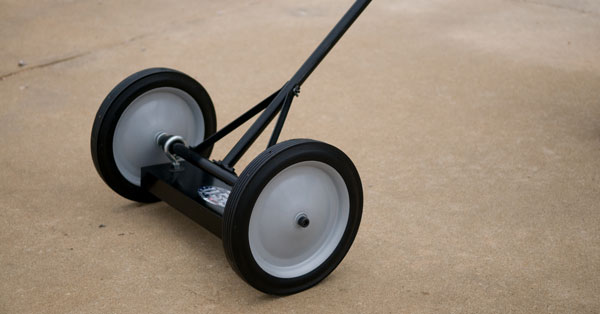 AZ Industries magnetic sweeper with wheel kit, or magnetic broom,  is ideal for picking up nails and steel debris.
We manufacture quality, heavy duty magnetic brooms.
Easy Steel Pick Up and Collection
Often referred to as roofing brooms or roofing sweepers, these devices are great for roofers, machine shops, loading docks, assembly plants or anywhere you want to collect and remove steel.
These units are hand built with a sturdy black anodized aluminum casing and solid rubber tires.
You won't find a more powerful, durable, quality product on the market. This magnet works well over concrete, grass, gravel, and rough, uneven surfaces.
Recommended Magnetic Broom Applications:
* Shot-Blasting Facilities
* Manufacturing Plants
* Construction Sites
* Dressage Rings
* Loading Docks
* Parks & Recreation Maintenance
* Aircraft Carriers / Flight lines
Simply push the magnetic broom through the steel ridden area and watch as the steel is collected to the magnetic surface.
Magnetic Broom Sizes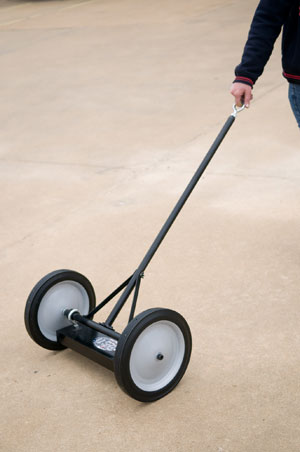 Industrial Magnetic Brooms
We manufacture Magnetic Brooms in two different widths. If these two sizes do not meet your individual needs we can custom make our Magnetic Broom in any special size up to 48″ to ensure you can obtain the perfect size.
* 18″ Wheel Assembly-P/N 115-207
* 36″ Wheel Assembly-P/N 115-206
Magnetic Push Brooms help protect your shop and office from flat tires, sharp objects getting into shoes, feet, and/or hands. Keep metal objects from being tracked from shop to office.
Eco-Solution with Magnetic Brooms
Popular with machine shops, these brooms pick up metal parts off your shop floor. Regular use of a magnetic push broom allows you to recycle and reuse valuable metal parts. With strong permanent magnets, brooms from AZ Industries will last for years.